Pietra Dura Inlay flower Vanity with Mother of Pearl Sink No.4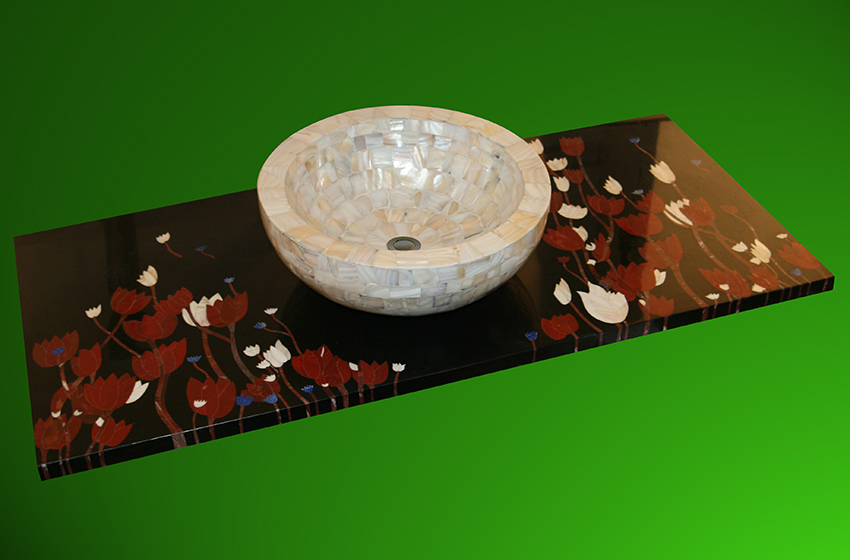 We offer our customers only selected pieces, designed and manufactured by Avecio.
We deliver our goods with our own truck company.

Pietra Dura Inlay Vanity incl. Mother of Pearl Sink!
The superlative of Vanity Sink.
Experience the perfect combination of a selected stone, our excellent workmanship
and design. An amazing Vanity washbasin for your bath.
The table top is made of a large piece of marble. It's not just a table though, it's
also a picture. The ornaments were made by cutting the design into the marble with
chisels and drills. The design was then hollowed out of the marble and new pieces
of semi precious like mother of pearl, lapis lazuli and marble stones were cut into
the correct shapes and placed in the holes.

The stone basin was a totally solid block of marble and then worked in complex
Mother of Pearl inlay work assigned mother of pearl mosaic pieces.
If you are looking for something unique and incomparable, then you are right here.
Pietra Dura Inlay Sink:
Dimension:
Length: 42 cm
Height: 16 cm
Pietra Dura Inlay Slab:
Dimension:
Length: 120 cm
Width: 55 cm
Height: 3 cm